Roto-Vac Vs Traditional Wand Carpet Steam Cleaning: Carpet Cleaning Castle Rock Co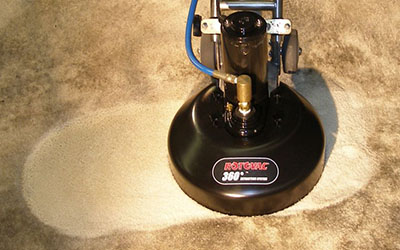 At TLC Carpet Care we provide our Roto-Vac hot water extraction, Just like a traditional wand this is just a different kind of steam cleaning process for carpets. This carpet cleaning tool can effectively remove all stains or odors. It has three jets that sprays hot water deep into the fibers of the carpet. This process takes approximately 8-10 hours of drying time with Nylon carpets. Polyester may dry a bit quicker.
TLC Carpet Care do not use any toxic chemicals. All of our carpet cleaning products are safe for kids and pets and are all bio=degradable. We do recommend staying off the carpet until it's completely dry to avoid recoiling the carpets. When it's dry clean house socks are recommended, and shoes are not allowed on the carpets anymore. wearing shoes from tracking in and outside will only get your carpets dirty faster again and also shoes will wear out carpets prematurely. Walk on the carpets with socks.

Our traditional wand cleaning tool is for carpets with light soiling and normal stains. We use a truck-mount carpet cleaning machine with very high pressure psi and suction power to get stains which maybe saturated deep within the fibers. This process takes approximately 6-8 hours to dry on average because unlike the root-Vac, the traditional wand is primarily just a surface cleaning and will not penetrate as deep. The six jet traditional wand process is extremely though and is used by the majority of all carpet cleaning companies. It works on any kind of carpet and can remove most stains, spills, and odors.
If you would like more info on: Roto-Vac vs traditional wand steam cleaning visit our website at tlccarpetcare.net or call us at 720-314-0178. Carpet Cleaners Castle Rock Co.