Removing Pet Odors From Carpets and Pad Replacement
Carpet Cleaning Castle Rock Co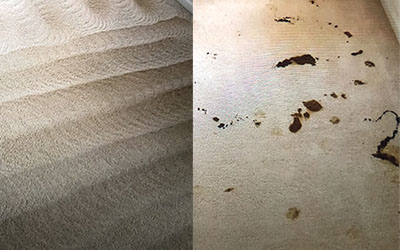 When it comes to removing pet odors from carpets, steam cleaning the carpet alone is not enough. Pet odors can be removed if it's an isolate occurrence, how ever when a pet has been constantly urinating in the same spot chronically your now dealing with bacteria that not just alone in your carpets but now its on your padding. In this situation you can clean the carpets and still experience pet odors. Cleaning the carpets can also cause off gassing in which urine dies off and when that happens it will release ammonia gasses into the air. This process may make it seem like it's getting worse and it will before it can get better. it is a necessary evil, but an indication urine is dying.
Carpet cleaning is great for removing soils and spots and common stains, but the dealing with bacteria is another challenge all together. The pet odor will resurface to the top when humidity occurs, like on rainy days. This can be very frustrating for Castle Rock homeowners as initially you think its gone and then one rainy day later it's back. Castle Rock is not a humid climate normally but it can happen more in the spring.
To completely eradicate pet odor you'll need a professional carpet cleaning company like TLC Carpet Care in Castle Rock Co. TLC Carpet Care's technician can help not only clean your carpets but replace the padding, Can't the padding be cleaned? Absolutely not. Padding is nothing more than a giant sponge and when urine seeps into it, it will absorb all it can and thus removing it all from the padding is extremely difficult, not only that but cleaning the padding would be cost prohibitive as padding is so cheap to replace.
If you want to completely remove pet odors, call TLC Carpet Care in Castle Rock Co and say goodbye to pet odors once and for all. Carpet Cleaning Companies Castle Rock Co.
For more info on, removing pet odors from carpets and pad replacement feel free to visit us at tlccarpetcare.net or call us at 720-314-0178. We look forward to serving you.