Stretching Carpets Before Carpet Cleaning: Carpet Cleaning Castle Rock Co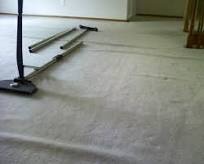 When it comes to cleaning your carpets you may want to inspect and see if the carpets are getting lose. When carpets are first installed, the home builder will use a subcontractor to install the carpets. Thus the bad news, subcontractors usually only use a knee kicker, when they should be using a power stretcher and with thick Nylon carpets it's not properly installed. What happens next is your carpets will eventually pull lose from the tack strip and start to buckle. When your carpets are lose from buckling they can be impossible to properly clean.
Many other things can cause carpet buckling, such as moving and dragging very heavy furniture across the room. This will cause the carpet to pull lose from the tack strip. Humidity can also cause a loose carpet to buckle even more.
To properly clean carpets they need to be laying flat so the wand get's a plush and flat seal for proper extraction. There are some situation where you can clean the carpet first if the carpets are lightly buckled in just a couple areas, thou the rule of thumb is to always stretch the carpets first.
Carpet cleaning not only serves the purpose of having clean carpets but the heat from the steam will help the latex lay back in its original condition.
TLC Carpet Care technicians will have your carpets looking as good as new once the TLC Carpet Care technicians have stretched and cleaned your carpets.
If you would like to know more about Stretching Carpets Before Carpet Cleaning visit us at tlccarpetcare.net
Call TLC Carpet Care at 720-314-0178