Pet Urine Treatments For Carpet Cleaning: Carpet Cleaning Castle Rock Co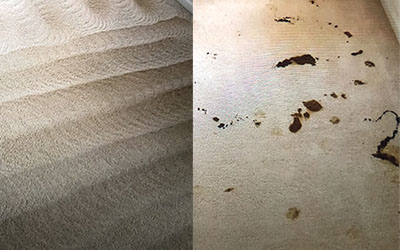 In our 18-plus years cleaning carpet ic Castle Rock Co and Douglas County and the surrounding areas, TLC Carpet Cares cleaning technicians have years of experience in cleaning the worst possible pet urine jobs and odor problems that impact the Castle Rock co community. From urine to stool satins and odor TLC Carpet care has seen and cleaned it all. Yes, its a disgusting job but TLC Carpet Care is here to help.
If your dog or cats pee or poops on your carpets the first thing you want to do is to get a towel or cloth and remove what you can by simply blotting up the urine and removing as much as poop as possible. Do not try to clean this on your own and please don't try to you household cleaning products on these stains you can do more harm than good if you use the wrong carpet cleaning products. Then you'll want to call TLC Carpet Care at 720.314.0178 and schedule you carpet cleaning as soon as possible.TLC Carpet Care uses a carpet cleaning chemicals that will easily remove organic matter and offensive odors from bacteria. Thou not all jobs maybe correctable, if your dog or cat has been peeing or pooping on the carpet for months or years, and the urine and odors have saturated down through the backing and into the padding or even the sub-flooring and at that point the carpets and padding maybe need to be replaced.
TLC Carpet Care in Castle Rock Co will use a carpet cleaning product called Urine Stain Remover. This is a peroxide time released carpet cleaning chemical that will bleach out the yellowing by reversing the carpets ph. We also use a product called Bio- Modifier and this carpet cleaning product will digest all the organic material slowly removing all the odor. This product with be included with the washing and rinsing stage of our carpet cleaning process. TLC Carpet Care will saturate the urine affected areas with Bio- Modifier and thoroughly rinse it out, repeating as much needed for best results. This carpet cleaning process has been extremely reliable in most cases we encounter and may be necessary to remove all pet stains and odors but at no time can we guarantee total odor and stain removal if your condition has been chronic.

TLC Carpet Care in Castle Rock Co stays informed of all changes and improvements fro Pet Urine Stain and Odor Removal products in the carpet cleaning community and the industry as a whole. We insure to remove all pet stains and odors, and we're always there to help you as soon as possible. We keep these carpet cleaning products stocked in our carpet cleaning vans at all times so we are ready at a moments notice. TLC Carpet Care can remove stains and odors other carpet cleaning companies don't.
Knowledge and experience is what TLC Carpet Care brings to you home. You can be assured if it can be done TLC Carpet Care can do the job right the first time. We can 100% guarantee that your stains will be gone and your odors vanquished with our carpet cleaning products and carpet cleaning process. Thou sometimes we cannot if your carpets may need to be replaced in some extreme cases. For and and all no matter how big or small Pet Urine Treatments For Carpet Cleaning call TLC Carpet Care at 720.314.0178 today and or you can also visit us at tlccarpetcare.net