Cleaning To Remove Pets Dander from Your Castle Rock Home: Carpet Cleaning Castle Rock Co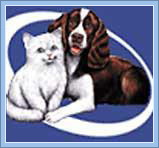 What is pet dander exactly and what is it doing to my carpets, home and family? Pet Dander is microscopic flecks of protein skin that comes from your cats and dogs. Dander slowly over time build up in many parts of your Castle Rock home. It will take a new not just carpet cleaning process but a new cleaning habit that will help you keep this Dander to a minimum. Can I get permanently rid of this dander for good? NO, as long as you have pets you will always have to contend with pet dander, but you can greatly reduce this build up. Lets take a look at how.
TLC Carpet Care a professional carpet cleaning company in Castle Rock has some suggestions on how you can create a new and seamlessly effort to maintain this problem.
Make yourself a bucket of hot water and vinegar. A couple of times a week wipe surfaces in your home, like tables, countertops furniture anything with a surface. When you vacuum be sure to also wipe down doors and baseboards.
On a daily basis first thing in the morning take your feather duster and dust down everything, I mean everything. This process will get in your carpets so be sure you carpet clean with vacuum at least twice a week. Your carpet is like a mega filter and will gladly collect and hide all of these dander particles.
Your pets love your furniture. Dogs love to lie on couches. So try taking a pet roller brush to your furniture. Cats tend to love enjoying sleeping on our beds so be sure to keep your top comforter and pillows cleaned once a week.
If you have carpet in your home, there is most likely plenty of dander hiding in your carpets. Vacuum your carpet and rugs using a micro filter vacuum cleaner. These keep the dander from circulation thru out your home and the air you breath.
Our pets love our attention and they will always require hugs and kisses, so getting dander in your clothes will always happen, so naturally maybe increasing your laundry frequency may prove helpful.
Another thing you can do your pets will absolutely love. Brush your pets daily. Just taking a mere five minutes out of your day to brush your furry family members will have them purring and barking with joy and this part will go along way to maintaining dander.
Last but not least everything is subjected to gravity. So pet dander will always collect the most in your carpets. So getting your carpets professionally cleaned more frequently will be a major benefit to removing and maintaining pet dander. TLC Carpet Care can help your schedule maintenance plan for all your carpet cleaning needs.
If you would would like to know more about: Cleaning To Remove Pet Dander From Your Castle Rock Home visit us at tlccarpetcare.net or call us at 720-314-0178 Carpet Cleaning Castle Rock Co