Benefits For RUG PADDING For Area Rugs
Carpet Cleaners Castle Rock Co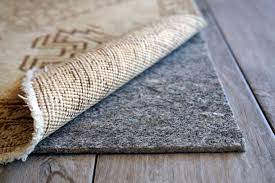 Do I Need A Rug Pad? YES!!!
The answer is yes, however some situations exist where a pad might not be appropriate for an area rug. Here are some reasons TLC Carpet Care in Castle Rock Co believe you should use a pad.
High-quality rug pads act as a comfortable padding between rugs and the underlying surface, making the rug so much softer to walk on.
A rug pad will prevent dirt and other debris from getting trapped beneath rugs and ground into the floor from foot traffic.
A rug pad can help protect a hardwood underneath. Some area rugs have a rough backing, which could cause scratches to your hardwood flooring or other types of Marble floors that can be damaged.
A rug pad will prevent movement and falling – a rug pad helps to keep the area rug lying flat and secure and keep you from slipping. A quality pad grips the area rug to keep it from sliding around. Even area rugs that have small end tables can slide, causing them to buckle and creating an accident.
Pet Barrier Rug Pads do all the above as well as prevent pet urine from saturating the floor underneath. Pet Barrier Pads are great for Hardwood flooring or if you put a rug on top of the wall to wall carpeting.
Other Reasons: Padding an help rug from wear and tear extending its life span.
For more info on Benefits For Rug Padding For Area Rugs visit our website at tlccarpetcare.net or call us at 720-314-0178