When You Need Professional Pet Stain & Odor Treatments
Carpet Cleaning Castle Rock Co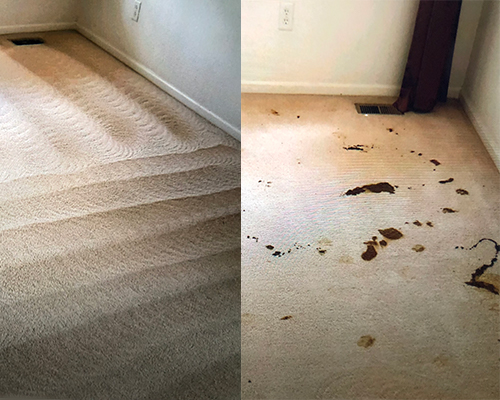 TLC Carpet Care is using products that have been designed to improve cleaning. Among those being used are carpet cleaning enzymes to digest and remove pet urine odor and stains. The enzymes have to be used by professionals. When products are not used in a manner for which they were designed it can result in permanent pet stains or odor. Contact TLC Carpet Care for the technicians that knows how the products work. A certain amount is required and steam cleaning has to be done during that time. The time and amount of steam cleaning can vary pending on severity. That is the reason a professional carpet cleaner should do the work.
A store bought carpet spotter cannot accomplish the removal of stains and odors. The stains must be neutralized, and properly rinsed so that urine salt crystals gathered between the carpet and padding are dissolved and removed.
The effects of pet urine
Urine neutralization enzymes work in a matter of hours and permanently. Stains and odors are completely neutralized. Urine is not the only kind of stain or odor pets can deposit on carpets or rugs. Vomit stains can be eliminated with a bio enzyme formula. It can digest a range of carpet and rug odors. All high ph stains are removed.
The bacteria that cause ammonia gasses are digested and eliminated. Permanent odor elimination is accomplished. Bio-enzymes are the primary ingredients used and eliminates odors quickly.
How TLC Carpet Care removes pet stains and odors?
Enzymes are the only thing that can break down urine molecules that are in carpets and padding. The bacteria feed on the pieces, multiply and consume the urine from the carpet, padding as well as the subfloor. When the salts expires, so does the urine. They are converted to carbon dioxide and evaporation occurs and removes stain and odor. Both are removed.
Oxidation and enzymes with urine stain remover are processes used together to fight pet urine odor. Oxygen has purifying elements. Professional Carpet cleaning products are available that will remove odor causing substances that have been oxidized.
For more info on When You Need Professional Pet Stain & Odor Treatments visit us at tlccarpetcare.net or call us at
720-314-0178 / Carpet Cleaners Castle Rock