Treating Pets Stains On Carpets: Carpet Cleaning Castle Rock Co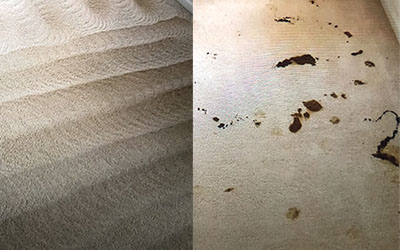 Cleaning pet stains is the most important thing for most Castle Rock homeowners, and why people call TLC Carpet Care. While the surface of the carpet is only part regarding what needs to be cleaned, it is still the most visible. A carpet cleaner's job is not just removing the pet stains but also addressing the bacteria that is released into the air as well.
Will the pet stains come out or are they permanent?
How long has the pet stains been left on the carpet without calling a professional carpet cleaner? Urine starts out on the carpet as an acidity, with a neutral pH factor. Once it contacts oxygen and bacteria develops, it begins ph begins to change. The chemical reaction and bacteria change the pH to highly ammonia that now is in alkaline state. The ammonia gases and the chemical reactions taking place will cause yellowing to the carpet fibers. At this point the fibers are no longer discolored by dirt; they are damaged and have been discolored by the high ammonia. Does this become a permanent spot?
What does TLC Carpet Care use to treat it?

Everyone wants to clean up a spot as soon as they see it, but using the wrong chemicals is as bad as not doing anything at all. Most store carpet cleaning products will cover up the stain and hide a spot, not stop the pH and chemical reactions. These spotters will not deodorizing the pet stain, and can leave their own permanent discoloration in the carpet.
TLC Carpet Care has a Urine Stain Remover that will reverse the carpets ph thus removing the yellowing and also enzymes that kills digest the bacteria to eliminate ammonia gasses.
Since cleaning immediately is the key, what is the best way to clean a pet stain?
Immediately blot the spot with a white dye free towel. Do not agitate, since this will push the urine deeper into the fibers. The goal is to extract as much as possible before it soaks into the carpet.
Rinse with cool water. Spray vinegar and water to the spot and remove with a wet-dry vacuum to absorb the urine.
Treat with a carpet cleaning spotter

. We recommend using TLC Carpet Care's Avenge spotters which we leave with our Castle Rock customers which is appropriate for your carpet. These products treat the stain without discoloring the carpet.
For more info on Treating Pet Stains On Carpets visit our website at tlccarpetcare.net and to schedule your carpet cleaning appointment call us at 720-314-0178