Rotovac 360I Carpet CleaningTool: Carpet Cleaners Castle Rock Co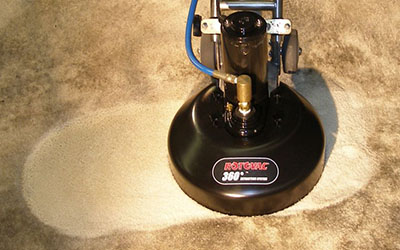 TLC Carpet Care offers a Rotovac Carpet Cleaning Tool for carpet cleaning if you feel your carpet needs a "restorative" type cleaning for those carpets that are extremely soiled…Restorative meaning bringing or restoring it to a like new condition. The Rotovac Cleaning Tool has 6 vacuum ports and 3 jets that rotates under its own engine power. It offers a deep carpet cleaning and power steaming effect without grinding or scrubbing your carpet fibers with an abrasive type method. The Rotovac carpet cleaning tool is stocked on each TLC Carpet Care van and can be added to any service for an additional service fee.
Acid Rinse Carpet Cleaning
TLC Carpet Care runs an acid rinse through the truck mount machine to help remove excess soils and waste from the carpet fibers and to neutralize the carpets ph levels.. This extra step helps to decrease the chances of browning issues by assuring all carpet cleaning chemicals are extracted.
Dry Time For Carpet Cleaning
After our carpet cleaning in Castle Rock Co with our climate depending on the time of year on average it will take up to 8-10 hours for complete dry time. Factors that affect dry time are the type of fibers of the carpet and soiling levels in the carpet. Some carpets can take up to 12 hours dry time. Carpets will dry faster with better air flow which why basements typically take longer if their enclosed. So running your fans depending on the outside temperature and turning on ceiling fans and any portable fans you have will help reduce dry time. Do not turn up your heat as this will create humidity and extend the dry times.
The carpet will only be damp to the touch after cleaning.It is best to stay off the carpet after cleaning until complete dry time is reached to avoid re-soiling.
For more info on RotoVac 360I Carpet Cleaning Tool visit our website at tlccarpetcare.net and to schedule your carpet cleaning appointment call our office at 720-314-0178.