PET STAIN EXTRACTION SERVICES CARPET CLEANERS CASTLE ROCK CO

We all love our furry friends but they come with a lot of carpet cleaning maintenance. Accidents can always happen and TLC Carpet Care in Castle Rock Co is here to clean your furry friends' accidents.
Some carpet cleaners often only treat the carpet surface, they only clean the visible part of the animal waste. Traditional carpet cleaning for pet stains and odor is only for the surface of your carpets; deodorizer is applied to the surface, temporarily eliminating pet stain odor. This method does not last long and it doesn't fix the important part of the problem, which is located underneath the visible part of your carpets. When carpet surface is washed, urine -which is unseen down in the carpet- will only get wet making the pet odors come back even stronger than before. At TLC Carpet Care, our process is to remove the odor/stain from the carpets with our high heat, high pressure ProChem Peak truck-mount. We provide permanent removal of yellowing stains instead of covering them up.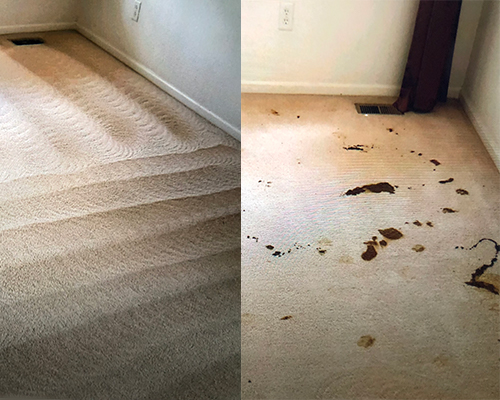 Our process removes the stool on the carpets but the urine underneath the carpet, but also pad and subfloor. We have the carpet cleaning extraction equipment and cleaning products available for pet stains and odors.
Saturate the carpet with special neutralizer for urine and extracting all urine from the carpet and padding.
Saturate the carpet with natural odor control and absorbing the extra liquid from carpet and padding.
Post spraying pet urine stain remover for the yellow stain.
Steam cleaning the area with high pressure hot water over 200 degrees with deodorizer to give you a fresh and clean carpet.
When your pet has an accident, they will keep on going to their favorite room over and over again. This is because they have marked their territory and smell the urine that is embedded in the carpet and pad. After the extraction process, your problem is corrected. This process can take longer time to dry than steam cleaning due to multiple carpet cleaning extraction process. If you want your 100% satisfaction guarantee for your furry friends' accidents, we are only a phone call TLC Carpet Care at 720-314-0178 and you can also visit us at tlccarpetcare.net .