Oops! Another Spill on the Carpet: Carpet Cleaning Castle Rock Co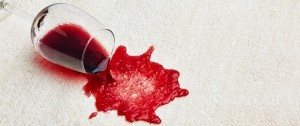 A stain is frustrating to deal with. When you've got white carpet with a wine stain in the middle of your room it's an eyesore. It can get can become permanent in time. That's because not only the contents of the stain (food, liquid, etc.) become trapped in the carpet fibers but dirt and residue from daily usage continue to accumulate along with the stain. When you have a stain, you want to get rid of it. Some are easy to eliminate while others take specialized equipment, expert knowledge, and specific cleaning solutions to get the job done. TLC Carpet Care offers specialty stain removal for your carpet and rugs.
Many stains can contain dye and may require special chemicals to remove. If they've been left to settle, they can oxidize and become permanent and discolor the yarn. Not only do you want to remove the stain as soon as it happens but you also want to do so in a way that won't set in the stain. Our technicians are carpet cleaning and stain removal experts. We have the right tools and equipment to get the stain out. Along with this, the right chemicals and know which chemical to use.
Here's some examples of the toughest stains that TLC Carpet Care can remove:
Food Stains
Pet stains and Vomit Stains
Soiling
Dirt
Dye Stains
Mud
Blood
Wine
Tea
Ink
Make-up
If you want to help prevent stains, TLC Carpet Care recommends adding Dupont Teflon protection. A protectant will create a barrier within the yarn, and preventing the spill from settling in. Dupont Teflon extends the life of your item, its look, feel, and wear. This specialty service protects your furniture and prolongs its life.
Our carpet cleaning techs are ready to help you. If you have a stain, schedule a free inspection. Once there, A TLC Technician will inspect and let you know how we can remove it. After the inspection, we'll provide you a written estimate. TLC Carpet Care makes everything easier for you!
If you would like more info on: Oops, another spill on the carpet visit us at tlccarpetcare.net or call us at 720-314-0178