How to Remove Stains From Carpets: Carpet Cleaning Castle Rock Co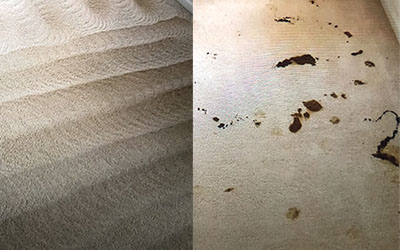 TLC Carpet Care in Castle Rock Co shares a few tips on how to remove stains from carpets.
Simple carpet cleaning chemicals can do a great cleaning job and can provide a simple answer to the question of how to remove many different stains from carpets. For example, a bottle of hydrogen peroxide may be the solution for your problem.
Simply place the hydrogen peroxide in an empty spray bottle. Spray it on the stain. Pre-spray the stain if you must to break up the stain's particles. Let it sit for about 10-20 minutes. You will need to agitate the stain, but don't scrub to hard. Use a dull edge scraper to help remove the stain to help it loosen up some more. Then use a portable carpet steamer to extract up the peroxide mixture from the carpet. You may also use terry cloths to absorb the peroxide. Your carpet should look cleaner and spot-free.
Club soda is another popular cleaning remedy for carpet cleaning .While best used on fresh stains, it can also be used to effectively get rid of set in soil and even food and drink stains. Simply spray club soda on the stain and leave it for a few minutes. Work it with a brush or steam clean the carpets to remove stain.
You may also want to sprinkle some vinegar over the or apply either club soda or hydrogen peroxide, since salt draws the moisture out of anything and can help draw in the club soda or hydrogen peroxide along with the stain itself. Carpet cleaning results will vary depending on the type of stain and the carpets fibers. Carpets with natural fibers like wool are much harder to clean.
If the ready-made products don't work, you can also try making your own cleaning solution at home. Mix ¼ tsp of liquid dish washing soap with 1 cup warm water. Do not use chemicals that have bleach in them. Spray the soap solution on the stain. Extract the stain using your steam vac or shop vac, towels, or any piece of cloth. Rinse the stain with warm water to lower the carpets ph and repeat the process until the stain is completely rinsed This works especially well with old pet stains.
For more info on How To Remove Stains From Carpets call TLC Carpet Care in Castle Rock Co at 720.314.0178 and you can also visit TLC Carpet Care at tlccarpetcare.net