How To Clean Coffee Stain On Your Carpet: Carpet Cleaning Castle Rock Co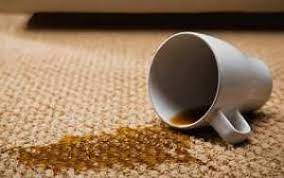 We've all done it, had that bad coffee spill, and if your carpets has a dark brown coffee stain on the carpet, it might be time to call TLC Carpet Care in Castle Rock Co. Why, cause what happens to the carpet after you spill the coffee will make all the difference between where you remove the coffee stain or it becomes oxidized and permanent.
Coffee stains on the carpet are caused by the aggressive ph factor of the protein in coffee. The water-soluble substances (tannins) and other acids present in coffee. The permanence of coffee stains depends on the temperature of the coffee and wether the carpet had been protected and also the type of carpet it comes into contact with. Polyester fibers are more stain resistant to coffee stains than natural carpets like wool rugs, and polyester maybe more stain resistant than nylon.
Coffee is low in ph but turns into an alkaline, so to remove a coffee stain on the carpet you would want to use an acidity such as vinegar. Try using vinegar with a little baking soda. The vinegar dissolves the acidic stain and the baking soda rises the particles away from the carpets surface.
If your ready for carpet cleaning appointment TLC Carpet Care in Castle Rock can help with regular carpet cleaning and coffee stain removal or here is a home remedy you can try yourself.
Home remedy to remove coffee:
Blot up as much of the coffee with paper towel or dye free white cloth
Spray a mist of vinegar to 2 parts water on carpet
Gently blot stain with paper towel or clean, dry, white cloth
Apply a little Baking Soda
Blot stain with paper towel or clean, dry, white cloth
Alternate between vinegar and baking soda until stain has been removed.
Finish by lightly rinsing carpet and then vacuum once carpet has dried
Never scrub carpet fibers, always blot from the out side of the stain moving inwards
For more info on How To Clean Coffee Stain From Your Carpets visit our website at tlccarpetcare.net or call us at 720-314-0178