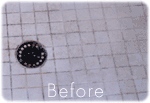 When tile and grout cleaning in Castle Rock, CO needs to be done there isn't anything that you should do but to hire us. When you hire us, you will get the tile cleaned up well. And, when you know that we are working on this, you won't worry about having to spend hours trying to get the tile cleaned only to leave it in a mess. It is best to get help with certain tasks, and you will feel great about allowing our company to do this, specifically, because we are better at it than most.
We will work hard and work quickly to get the tile and grout cleaning in Castle Rock, CO done right. And you will love how it looks so much that you will want to hire us again if you need this done again. Anytime that the tile becomes a mess you should know that you can just call us and that we will gladly get this taken care of. You are going to enjoy the look of your house when you have every detail cleaned, such as the tile. So, hire us before you have guests over, and they will love the way that the tile looks.
You will feel like the tile is brand new because it will look so great now that it has been cleaned. And you will feel appreciative to our company for working so hard on it. You will know that if you had tried to clean it yourself, there would have been no way it would look half this good. But, thanks to our company, you have great looking tile, and you can feel proud of your whole home because of that. So, hire us when you need this done, and you are going to be glad that you did that instead of working on it yourself.