Easy Carpet Maintenance: Carpet Cleaning Castle Rock Co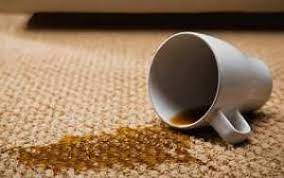 Spot cleaning between professional cleanings can be very frustrating. No matter how much you try to clean a coffee stain off your carpet, sometimes it just won't come up. However there is an alternative, when you have carpet protector like Dupont Teflon, it provides a barrier that doesn't allow coffee or any other beverage to seep into the fibers of your carpet. The way that carpet protector keeps the spills resting on the top of your carpet, allowing you the time to grab a towel to EASILY clean it up. With Dupont Teflon coffee spills should still be cleaned up as soon as possible to avoid heat damage to the fiber.
Dupont Teflon can also prevent bacteria from urine and vomit from settling into the fibers of your carpet, it will keep harsh dirt and sand from breaking down the fibers. Carpet protectors help to preserve the look of your carpet by keeping them perfectly clean in between your professional carpet cleaning appointments.
When it comes to price theres an extra charge to have Dupont Teflon on your carpets as it's not a normal part of the carpet cleaning process, it will end up saving you headaches from spills that could potentially stain your carpets. Dupont Teflon will help maintain your carpets warrantee and extend the life of your carpets.
If you would like your carpets protected, you can call the carpet cleaning professionals at TLC Carpet Care give you a free quote. We can put a carpet protector on your carpet after cleaning that will offer an added layer of protection between professional carpet cleanings. You can count on TLC Carpet Care and Dupont Teflon to get and keep your carpets looking clean at all times. Call TLC Carpet Care at 720-314-0178!
For more info on Easy Carpet Maintenance visit us at tlccarpetcare.net
Carpet Cleaners Castle Rock Co