Difficult Stain Removal: Carpet Cleaning Castle Rock Co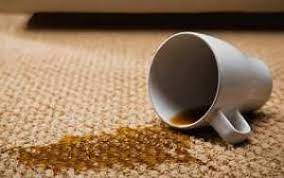 Accidents like coffee spills will happen that leave difficult stains on your carpet. Sometimes when we're rushing thru our morning you spill some coffee, while entertaining there are food and beverage spills, or maybe your new puppy had an accident that left a difficult stain.
Your only chance at removing difficult stains is to call a professional carpet cleaning company like TLC Carpet Care in Castle Rock. many of these difficult stains are challenging because of how they effect the carpets ph and if you don't have knowledge on proper carpet ph and you try to clean a difficult stains, you can do more harm than good and even possibly setting on the stain permanently.
TLC Carpet Care technicians are experts at difficult stain removal. Trained and certified with the latest carpet cleaning products, and state of the art carpet cleaning equipment, TLC Carpet Care can remove difficult stains even if you were not able to.. So if you are dealing with difficult stains from coffee, red wine, ink, or dye stain, don't stress. We use carpet cleaning products that are specifically designed for very kind of stain.
Why Choose TLC Carpet Care for Stain Removal?
We at TLC Carpet Care put every one of our carpet cleaning technicians thru IICRC carpet cleaning school. The IICRC is a industry educator on all things carpet cleaning. From cleaning difficult stains, to learning to identify different carpet fibers and knowing how to use the latest in carpet cleaning technology equipment. Once completion of class room and certification has been completed, further on site training in the field continues, With TLC Carpet Care you'll be equipped the best tech for professional carpet cleaning.
Call TLC Carpet Care Today at 720-314-0178
If you would like to know more info on Difficult Stain Removal visit our website at tlccarpetcare.net
Carpet Cleaning Castle Rock Co