Different Stain Removal Carpet Cleaning: Castle Rock Co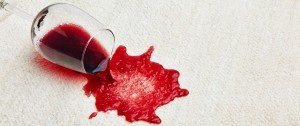 Dye Stains
Dye stains are organic dyes. Once a bond has been created the dye can be removed through a process called Red Relief. The reducing agent slowly removes oxygen from the molecule chain until the dye is removed by heat transfer.
An example of synthetic dye is gatorade, caramel color, orange drinks basically any drink that has artificial dye added.
Oil Based Stains
To remove a Oil based stain it must be dissolved using solvents and solvent carpet cleaning products. These stains can be tracked in from the tar the inside of your garage. Makeup is generally petroleum based such as lipstick or eyeliner.
Ink from a pen or printer are both oil dyes and require special enzymes.
Coffee Stains
Anything protein based such as coffee, milk or blood is are protein based stains.
Unidentifiable Stains
Yes this is a real category, a mystery stain is simply a stain that is unidentifiable, meaning that the Castle Rock homeowner does not know what it is or where it came from. When I am left with little to no information about a stain I literally have to guess what type of stain it is based on color or smell however this does not mean it can't be removed.
This is the most expensive and time consuming stain to remove since I have to try and if I don't succeed try-try again, the challenge is that each application cost product and time, also stains need to be thoroughly dry in order to absorb the second treatment / attempt.
This process needs to be repeated until the stain is identified and removed.
Combination Stains
As it sounds, a combination stain is when there are multiple stains in one. These are usually food and beverage stains. These are the most difficult and time consuming stains to remove.
Urine Stain Removal
A Urine Stain left behind from a cat or dog or even human is an organic dye; the tannins in urine vary from animal to animal. Once the stain bonds to the surface of the fibers its bond requires it changes from acidity to alkaline which is why it turns yellow. TLL Carpet Care uses a time released acidity in order to break that bond.
The ph effect is called oxidation which is the process of adding oxygen to the stain molecules. In some cases pre as well as post urine stain remover treatments are used to remove the stain completely.
Sometimes success is achieved on the first attempt however stain removal can take multiple carpet cleaning applications. Some stains can not be removed because they have been made permanent by improper use of store bought carpet cleaning products that don't work at removal, complete stain removal is not guaranteed.
For more info on Different Stain Removal call TLC Carpet Care in Castle Rock Co at 720.314.0178 and you can also visit us at tlccarpetcare.net