Decontaminating Carpets: Carpet Cleaning Castle Rock Co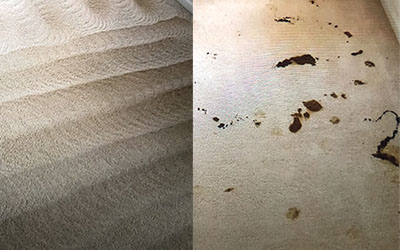 Many Castle Rock homeowners don't realize the health hazard that is caused by urine in carpet and the ammonia gasses they release. Bacteria from urine can spread rapidly when it has humidity. Pet urine is a chronic and on going breeding ground for bacteria. How fast will bacteria multiply?
In climates with humidity weather like the east coast, the amount of bacteria can triple every hour.
Every 12 hours, each bacterial cell will produce over 24 million additional bacteria cells.
The ammonia gasses circulated in the air can cause illness. Especially with those who have allergies or are auto-immune.
Most cat's and dogs will commonly continue to urinate the same area as this is a known behavior.
Professionally carpet cleaning with a company like TLC Carpet Care in Castle Rock use Pet Solutions Treatments treatment to all the carpets an padding. This includes sanitizing the urine in the fibers of the carpet, and deep cleaning in the carpets latex and padding.
The urine salts are chemical reactions which convert the acidic ph levels to alkaline levels which is optimal bacterial over growth. The moisture they get from humidity levels especially during the summer will keep the bacteria alive and thriving. This as time goes by will continue circulating unpleasant odors thru-out your Castle Rock home.
Urine simply can not be just cleaned, they must be killed by a digestive enzyme that will actually digest and eliminate the urine and it's bacteria.
These enzymes must be allowed to dwell at least 30 minutes and then be followed up with steam cleaning and an acid rinse. Then a topical Urine Stain Remover must be groomed in the carpet fibers post cleaning.
Many professional carpet cleaning companies don't go there the entire process.
At TLC Carpet Care our carpet cleaning technicians have been thoroughly trained on decontaminating carpets and how to get those once soiled and smelly carpets looking new and smelling fresh again.
If you would like more info on Decontaminating Carpets visit our website at tlccarpetcare.net or call us at 720-314-0178
Carpet Cleaning Castle Rock Co