Coffee Makes The Lists As The Hardest Stain To Remove, But WHY?? Carpet Cleaning Castle Rock Co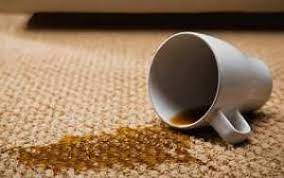 Why is coffee the hardest stain to remove: When it comes to spills that happen often on your carpets there are so many things your carpets have to deal with on a daily basis from food, drink, contaminates being tracked in from outside and the list goes on and on. The most common problem that frustrates homeowners is how come I can't get coffee out of my carpet?
Coffee maybe the most common drink shared by American's and Starbucks really is thankful for that. It's the cup that you start your day off and for others is something they may have after dinner. The problem is when your at home enjoying a cup and before you know the kids or your dog bumps into you and now you have a problem. When coffee spills and it is on the carpet you are dealing with a very stubborn protein and the temperature of the coffee as well as mixtures of dairy and more protein. Some even with sugars and sugar free chemicals, and what do you have: one big filled protein chemicals mess.
The problem for Castle Rock homeowners is simply what they don't know. They think they can just use whatever spot cleaner they have and then it's gone. You try Resolve, no still there, you try Oxi-clean no still there and all the meanwhile your adding a multitude of chemicals that could possibly cause damage that can't be reversed and unfortunately the next day not only is it not gone, but like a villain in a horror movie it just keeps coming back. Don't be hard on yourself it's not your fault, you haven't been trained on the science of carpet ph and it's complexities.
The technicians at TLC Carpet Care are trained by the IICRC and certified at professional spot cleaning including COFFEE. ​​​​​​​If your ready to throw own the towel and let a professional carpet cleaning company remove that coffee stain give the professionals at TLC Carpet Care a call at 720-314-0178
If you would like more info on: Why coffee makes the list as the hardest stain to remove, but why visit us at tlccarpetcare.net
Carpet Cleaners Castle Rock Co