Castle Rock Co Pet Odor And Stain Removal Services:Carpet Cleaning Castle Rock Co.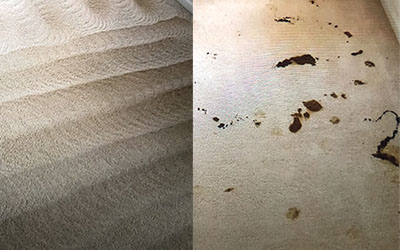 Unfortunately there are many times that even the best-trained dog is going to have an peeing accident. This is going to leave you with ugly stains and odors to clean up. You'll need to get rid of pet odor or urine smells either using carpet cleaning products and equipment. You may be able to remove some of the stains and odors and make it look and smell better for a time, however, you won't be able to get to the bacteria that is hidden deep in the backing of the carpet that will ensure the odors are permanently gone. That's why you'll need to call in the pet odor and stain removal pros like TLC Carpet Care in Castle Rock Co that can really deep clean your carpets and remove those unsightly stains.
TLC Carpet Care in Castle Rock offers carpet cleaning services that will not only remove the yellowing of urine and pet odor, they will also clean them so that your carpet will be truly clean and fresh. Pet and urine odors will be gone for with no lingering odors. With RotoVac 360I action carpet cleaning, you're assured that these odors are destroyed forever. NO more worry that your guest and relatives will smell them a month later.
It's easy to add pet odors and urine removal to our list of cleaning. You want a healthy all over clean and we've got what it takes for you to have that. Our pet Solutions Pets Package uses a special USR urine removal chemical as well as our enzymes applications and carpet cleaning equipment. We'll get those stains out and that bacteria out that is allowing bacteria to releases gasses and make your entire house smell awful.
Why Is Pet odor So Hard To Remove From Carpet?
When your cat or dog has an accident, the urine seeps through the padding of your carpeting, subfloor and soaks in. No matter how many times you try to clean it, it's still hidden underneath. It's on the sub-flooring as well. Basically, you're just spreading the bacteria around and making it more difficult to remove. Pet urine on your carpet can become a problem and even lead to health issues for your family members if left untreated. TLC's carpet cleaning method steams it out and removes all traces of the stain and odor. It sanitizes your carpets and helps to keep your carpets and family healthy. If you choose to replace the carpet, you still have to replace the padding and clean the sub-flooring.
There are two main sources of pet odor. Urine which has bacteria in it and this allows bacteria to grow and turn into an endless food supply for the bacteria. Ammonia gasses from the urine as it decomposes are very unpleasant and will keep the being released for a very long time. The smell of urine is unpleasant and always there.
Secondly, there is a chemical smell that will also linger after the bacteria is killed off. It must be neutralized to get rid of it.
Pet Urine And Odor Removal
We use a multi step carpet cleaning approach:
1. Powerful cleaning with the truckmount and Rotovac carpet cleaning equipment to flush the bacteria out and eliminate it.
2. An enzyme and USR solution to reduce the smell and remove the stains.
3. Post Acid Rinse that includes ensuring that all of carpets are neutralized as well.
For more info on Castle Rock Co Pet odor and Stain Removal call TLC Carpet care at 720.314.0178 and you can also visit us at tlccarpetcare.net