Carpet Pet Treatments: Carpet Cleaning Castle Rock Co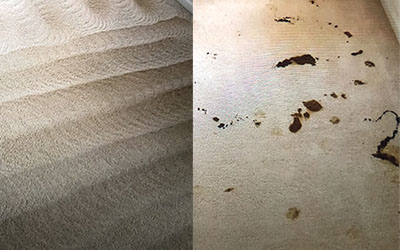 When you take a moment to breath the air in certain rooms where your pets hang out the most, does your carpet smell like pee? Thanks to your furry family members the odors in your carpets and rugs are starting to become more noticeable? Sometimes it doesn't happen all at once. Sometimes bacteria that your unaware of in your carpets can spread, grow and multiply and then odors slowly start to making themselves more airborne.
TLC Carpet Care in Castle Rock Co offers Professional Pet Treatment that are deigned specifically for carpets by attacking urine at the molecule level thus eliminating all of those stinky odors that tend to linger after the furry ones have a few accidents. Pets add so much love to our families, but most Castle Rock pet owners truthfully could do without the unhealthy odors that develop over time. Even if you think you've cleaned if to your surprise your still smelling odor and that where the frustration comes in. However that also where TLC Carpet Care can come in to help.
Nothing does better than TLC Carpet Care's Pet Treatments for carpets. TLC Carpet Care has over 30 years of experience in getting rid of pet stains and the odors they cause. TLC Carpet Care technicians are experts at eliminating odors and getting those carpets smelling fresh and clean again. You don't have to live with unsightly pet stains and those smelly carpets. Take control over your living environment again by scheduling TLC Carpet Care's Professional Pet Treatment. Be sure to tell the staff operator that you need Pet Treatments For Carpets.
If you would like more info on: Carpet Pet Treatments visit our website at tlccarpetcare.net or call us ay 720-314-0178
Carpet Cleaners Castle Rock Co