Carpet

DYEING: Carpet Cleaning Castle Rock Co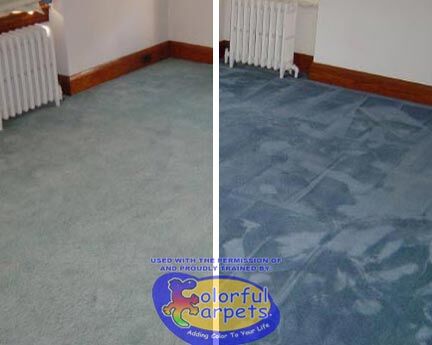 Carpet Dyeing for your Castle Rock Home
Carpet dyeing is a process that re-dyes your carpets, single family homes, condos, apartments, etc. TLC Carpet Care in Castle Rock utilizes quality products and equipment and certified technicians to ensure maximum results. The process is clean, odorless, fast drying, environmentally friendly, non-toxic and as permanent as your original mill dyes.
If you carpet is in poor condition and you want the original look agai, or transformed, you can invest in thousands of dollars to replace the carpeting or at a fraction of the cost decide to hire TLC Carpet Care for your carpet dye services.
Pet Stains, sun discoloring, and permanent spots are no longer reasons to replace your carpets. With our process we blend in faded areas, spot dye stain and rejuvenate carpets. Most carpets can be re-dyed to like-new condition with a different color. Our carpet dyes are great quality, will not fade away, and will not clean off with future carpet cleanings. If sun-bleaching and stains, or have damaged your carpet color, or if your carpet color simply looks really bad, TLC Carpet Care has the answer. We will re-dye your carpet to like-new condition without replacement.
Money Back GUARANTEED
We stand behind our service 100% or you don't pay. We guarantee our dyes to be permanent and colorfast for the life of the carpet. We also guarantee your satisfaction!
READY FOR USE AS SOON As Its Dry
TLC Carpet Care uses a very low-moisture quick dyeing system making our services very convenient for Castle Rock homeowners. Our dyes bond with the fibers and existing carpet color, we guarantee our dyes to be colorfast instantly and for the duration of the carpets life.
BENEFITS OF DYEING VS Cleaning
Saves money
Extend the life of your carpet
Carpet looks new
Recolor worn areas
Color your carpets to match your walls
More convenient than installing new carpet
Doesn't take long
Typically, the dyeing process takes between 4-8 hours, depending on the square footage.
WHICH Carpets CAN BE DYED?
All Carpets can be very re-dyed, if they are made of berber, or nylon both of which are dyeable materials. Silk is made from fibers or yarns that have been dyed prior to being woven into a rug and can be re-dyed. The re-dyeing process is permanent, colorfast, and pet friendly.
Certain Carpets as polyester and olefin are not dyeable. If you are not sure what your carpet is made of, a certified carpet technician from TLC Carpet Care can easily and quickly test the material to determine the fiber content.
MOVING FURNITURE?
TLC Carpet Care will move all major furniture. We do ask, however, that you remove all breakables items removed from the furniture as well.
For more info on carpet dyeing visit our website at tlccarpetcare.net or call our office at 720-314-0178