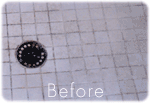 What Sets Us Apart in Terms of Tile and Grout Cleaning
TLC Carpet Care not only specializes in helping maintain your carpet but also your walls and floors to enhance the overall appearance of your space. In this regard, we have tile and grout cleaning in Castle Rock, CO experts who dedicate their expertise to ensure that your home looks bright and welcoming. Here are a few things that put us ahead of our competitors.
We finish work within the set timeframe
At our company, we understand that the human traffic associated with sending our personnel to your property can cause a great deal of inconvenience. Therefore, we not only give you a schedule of the project but also strive to complete the job within the set timeframe. By completing the work in good time, we also help to avoid cost overruns.
We restore the color and warmth of your rooms
We have faith in our expertise and experience regarding tile and grout cleaning. As a result, we promise to restore the color and warmth of your rooms. We stand by the quality of our work and will be ready to redo it if it does not meet your expectations or needs.
Both residential and commercial spaces
Our company has always strived to become a leader in tile and grout cleaning in Castle Rock, CO. In this regard, we offer our services to both commercial and residential building owners. Whether it is your walls, floors, indoor surfaces or the outdoors, you will never go wrong if you come to us.
We offer generous discounts to loyal customers
To ease pressure on your wallet, we offer generous discounts to some of our customers from time to time. Once you join our family, you will always feel valued and appreciated.
If you are to enjoy the loyalty discounts we give to our customers, you should visit our website regularly. This will also give you a good chance to learn more about the wide range of services we offer our customers.