Professional Grout Cleaners: Carpet Cleaning Castle Rock Co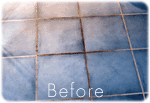 Stained or dingy grout? After some time if your gout has not been sealed by TLC Carpet Care in Castle Rock Co grout will prove "very difficult to clean" and a professional grout cleaning service like TLC will need to be hires. Why? Grout is so extremely pores that moping it can actually make it worse and home steam cleaners simply cannot provide the extracting power that truck mounts professional grout cleaning machines have to clean them thoroughly.
Don't make the mistake that all carpet cleaning and grout cleaning companies are the same. Some companies work better than others. and our professional grout sealing tech are the most experienced. The answer to protecting your grout, our professional grout cleaning system, and the Health+Clean grout cleaning system, is our specific answer to restoring your soiled grout.
To learn more about our cleaning system, please visit our website at tlccarpetcare.net Our website will provide much information and articles to help you make a more informed decision.
"But can I have my grout cleaned and sealed? " TLC Carpet Care in Castle Rock recommends to clean and seal both grout and tile so there will not be an unsightly "contrast line" between the tile and the new looking grout. Also, in comparison to your grout, your tile may look clean but, in our experience, tile is usually dirtier than it looks, and cleaning has often shown a very heavily contrast, besides you really can't clean one without affecting the other, You also will want to consider that bacteria, mold/mildew and odors may be in your tile and grout, and that regular steam cleanings are important to help kill and extract them. Professional tile and grout cleanings also help extend the life of tiles as well as grout.
For Professional Grout Cleaners in Castle Rock Co call TLC carpet care today 720.314.0178