Pet Treatments For Carpets: Carpet Cleaning Castle rock Co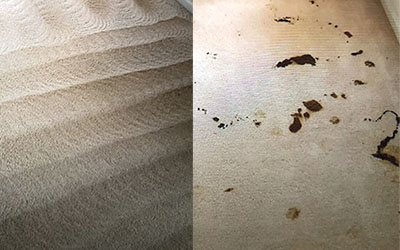 For carpet cleaning for severe carpet stains and odors TLC carpet Care in Castle Rock Co has pet treatment that is our best option to removing unsightly pet stains and odors. This is likely the better carpet cleaning option. This Pet Solutions package is designed to go into the backing of the carpet digesting all the bacteria and thru the padding and sub floor to tackle more extensive stain and odor problems caused by ammonia gasses. With TLC Carpet care's Pet Solutions package, we guarantee the removal of pet odor.
TLC carpet Care's Pet Solutions Package starts with pre-treatment, which involves saturating the carpet with Bio-Modifiers and getting down to the backing of the carpet fibers. We then use a RotoVac extraction tool to extract all the urine, feces from the carpet and flush all the bacteria out of your carpets. Next, we rinse the carpet. Then, we inject the carpet more BioModifier to kill bacteria. Finally, we post-treat the carpet with Urine Stain remover.
When it comes to choosing which carp[et cleaning company in Castle Rock Co that will make do the best carpet cleaning job to remove pet stains and odors look no further than TLC Carpet Care. TLC will make the most sense for you, we'll evaluate your carpets and, inform you how the severe of the issue, and tell you which carpet cleaning process we think makes the most sense. When it comes to pet stains and pets odors we only recommend the Pet solutions Package will always be necessary.
For Pet Treatments For Carpets Call TLC Carpet Care in castle Rock Co Today 720.314.0178 or visit us at tlccarpetcare.net