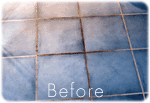 Tile and grout cleaning in Castle Rock, CO
After some time, the floor and other surfaces change from their initial shiny surfaces. Mopping and scrubbing the surfaces do not bring the good results expected. This is because the grout absorbs any debris or dirt on it. When you do the mopping, you only remove the top dirt such as oil. Mopping does not clean the stains, which make it be dull.
Our company has a good record of accomplishment of removing that stain in the best way. We have good sealing chemicals that our experts will use on the surface. The results will give your home a new look. You do not need to worry if your grout is discolored; we also offer the grout recoloring services. However, it will depend on the type of color of your grout. We have introduced the updating services depending on the one that will suit you.
Generally, most people prefer to clean the tile and grout by themselves. This is not a bad idea. However, you will not be able to work on it well more than our experts will. Most of the retail services will leave your floor looking good for only a few days, and not clean your grout well.
Our professional tile and grout cleaning in Castle Rock, CO experts will apply different mechanism until all the stains in the deep porous grout are removed. We do not have those long contracts for you to sign. We just need your home physical address and the convenient date for the work. Our well-trained professional experts will assess the surfaces and identify the products to use and the method. We like using organic products, which will not harm your surface or the children when playing on the floor.
Our vans are more common in major towns and outside towns doing what we love the most. We have grown due to great referrals from our satisfied customers. Our services are professional and admirable