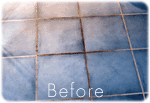 Tile and grout cleaning in Castle Rock, CO is a job that many people either do not want to do, or do not know how to properly do. Hiring a professional will ensure that your grout and tile is clean is disinfected the right way.
Our team of trained and trusted professional tile and grout cleaners will come to your property and get the results you need in a hurry. We use only the best products to get your area clean in the quickest time possible. We can come beforehand to scope out the work you need done and give you an estimate of the cost of your cleaning. Whatever your budget is, we are sure to be able to get your tile and grout clean and spotless.
One of the hardest parts of cleaning tile and grout is making sure that your grout does not get damaged but is still clean and sanitized. Without having the best professional cleaners to do the work, your grout or your tile could easily be damaged. This damage will require additional costs to locate and replace tile or to redo grout work. Spending the relatively low cost of hiring our company to clean for you can easily save you money down the road in repair costs. We are the trusted professionals to choose to get your area clean and unmanaged!
When choosing a tile and grout cleaner in Castle Rock, CO, there are many options. We have been in business for a long time and can give you the references to show we will always be the best for the job. On top of having the best products, we also have the machines that will get your tile and grout the cleanest, in the shortest amount of time.